Sudbury –
Building off a successful inaugural year, a non-profit organization 8 80 Cities is seeking applications for the 2022 Ontario Community Changemakers Program. Young leaders aged 19-35 with creative ideas to improve their communities in Ontario are encouraged to apply to take part in this innovative micro-grant and leadership development program.
Twenty successful applicants will receive $5,000 to implement their project idea, leadership development training from 8 80 Cities, and peer-to-peer networking with other grassroots community champions. The 2022 program will run from August 2022 to August 2023.
The OCC program, funded by the Balsam Foundation, was created to serve as a launchpad for emerging community leaders and create a network for young civic innovators and public space advocates that reflect the diversity of people and geography of Ontario.
"The program's mission is to support and elevate the voices of emerging civic leaders in communities across Ontario to inspire and enact change," said Jiya Benni, Project Manager of 8 80 Cities. "We have been so pleased to see many of our 2021 Changemakers' project ideas come to life and witness some great exchange of ideas and peer learning over the past year through our virtual convenings and skills-building sessions. From transit advocacy to enhancing safety in public spaces for girls to pollinator gardens and more, the 2021 Changemakers are in the process of implementing some amazing projects. We can't wait to see what new and creative ideas the 2022 Changemakers will bring this year."
The OCC program strongly encourages applications from BIPOC applicants and individuals with lived experiences that are currently underrepresented in the placemaking sector. The program is accepting applications from residents aged 19-35 from communities of all sizes including rural communities, small towns, cities, and First Nations territories.
This year the program will feature both a virtual studio and an in-person retreat. The curriculum will feature presentations and storytelling workshops by inspiring community leaders, as well as skills-building workshops on project planning, community engagement, communication, and tactical urbanism.
The 20 successful applicants will have 12 months to implement their idea and will receive ongoing training and capacity building from the team at 8 80 Cities as well as a network of international public space experts.
Ontario Community Changemakers is led by 8 80 Cities, a nonprofit organization committed to improving the quality of life for people in cities by bringing citizens together to enhance mobility and public space.
To learn more about the successful OCC applicants in round 1 visit here.
To apply to the Ontario Community Changemakers program, applicants must submit their ideas at www.ontariocommunitychangemakers.org by June 19th, 2022, 11:59 pm EDT (10:59 CDT).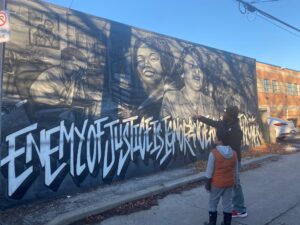 About 8 80 Cities
8 80 Cities is a nonprofit organization based in Toronto, Canada. We are dedicated to contributing to the transformation of cities into places where people can walk, bike, access public transit and visit vibrant parks and public places. Our approach is to engage people and communities across multiple sectors to inspire the creation of cities that are easily accessible, safe and enjoyable for all. We achieve our mission through grant projects, research and advocacy, and our innovative services. For more, visit: 880cities.org.
About Balsam Foundation
Balsam Foundation exists to enable and galvanize the well-being and potential of our communities. We are committed to a future where all Canadians benefit from a high standard of health and well-being. For this reason, our funding will reflect approaches that put people first, strike a balance between personal and collective wellness, and acknowledge the impact of social determinants of health and the context within which people live, work and play. For more, visit balsamfoundation.com.