Living Wage Digital Day of Action
3:00 PM

-
Phone Zap - Living Wage Vote Yes On Feb 15
About this event

The Sudbury Workers Education And Advocacy Centre is inviting you to join us and call on your local councillor to let them know the living-wage is important to you and encourage them to vote yes this coming February, 15th!
Take action with us by sending this petition (www.sudburyworkerscentre.ca/vote-yes-feb15/ ) to your local councillor to vote yes in this upcoming vote,
Participants can also use these graphics to send to your local councillors via social media to #VoteYesFEB15 because #SudburyNeedsALivingWageNow or use the hashtags to get their attention, and let them know Sudbury is counting on them to make the right decision!
Finally, join our phone-zap on Saturday Februrary.12 at 3 PM, for the last chance to urge councillors to vote yes, and ensure the motion is passed in Sudbury!
Tax Event

April 21, 2022: Taxes for Newcomers & International Students 

Tax Event

April 6, 2021: Understanding Your Taxes

Teach-in & Cultural Exchange

Oct 23, 2020: In solidarity with provincial events, meal share.

Data + Queeries Presentation

Jul 15, 2020: Work, inclusion & 2SLGBTQ+ in Sudbury & Windsor

Living Wage Launch

Nov 4, 2019: Sudbury needs a living-wage!

Future of Work

Jul 25, 2019: Workshop – Will the future be fair?

Advocacy 705

Jul 15, 2017: Skill & Strategies for Sudbury

Stitch'N B*tch

Jun 12, 2017: Fight for $15 and Fairness
PAST WORKSHOPS & WEBINARS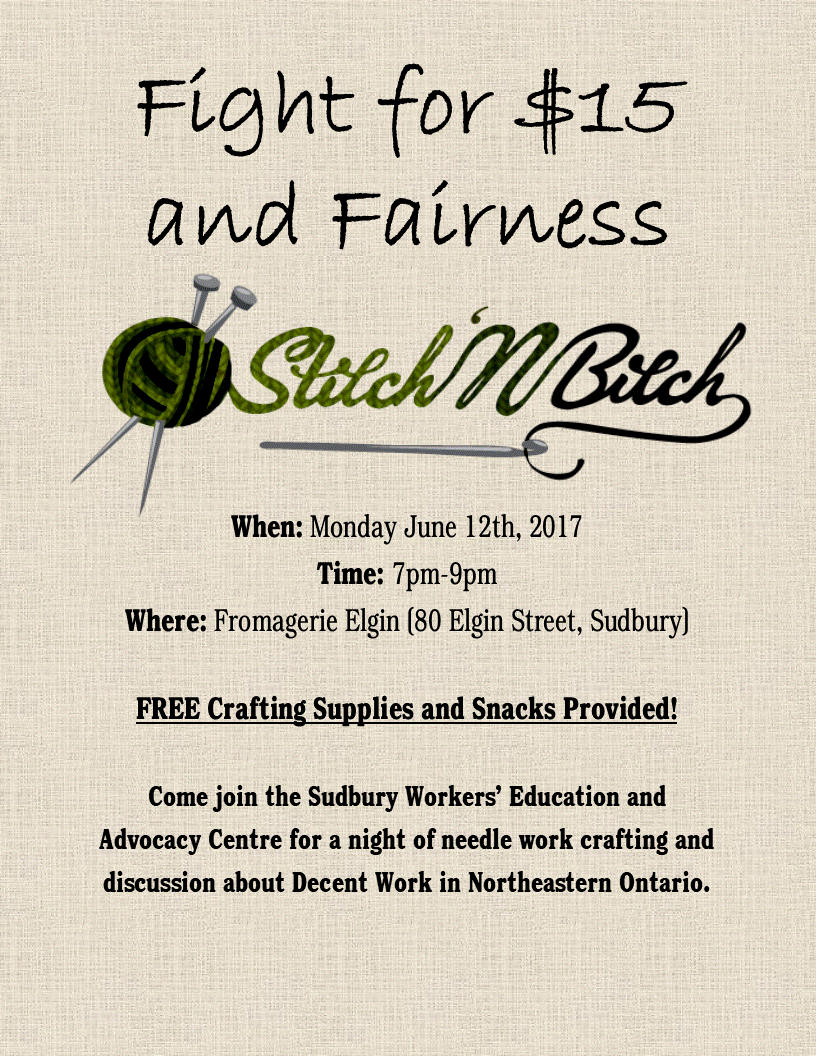 Prescription for a #SafeSeptember:
PAID SICK DAYS!
Rally and Action
Saturday, August 29th 2 PM