Christmas Donation Drive: Giveaway
Event

-
SWEAC
109 Elm Street
Suite 209
705-470-3323
Sudbury –  The Sudbury Workers Centre is calling on your support to help us keep services that support the residents of our municipality and help sustain the common good.
We need your help to reach our $1000 goal this holiday season Sudbury! 
We, here at the Sudbury Workers Centre will be engaging in an Online Give-Away Donation Drive.
Beginning November 30, 2021 and ending on December 24, 2021.
Over these 25 days, the Sudbury Workers Centre will be engaging in an Online Give-Away Donation Drive. Beginning November 30, participants will be encouraged to donate to our online donation drive designated for this event.  To encourage donations, we plan to give away a prize every single day.  Some will be big, others will be small. But every day, whoever donates earns a chance at winning a prize!
Participants who donate a $10 minimum will be entered in a draw to win 1 out of 25 possible mystery prizes. With more than $150 dollars worth of prizes to give away, there will be plenty of variety for all this giving season!
Participants will have until 11:59 PM (EST) to be eligible for that day's prize. For example, participants who donate the $10 minimum after 12:01 AM the following morning will be made eligible for that morning's prize. Be sure to add your contact info and mailing address before you finish your donation! Otherwise, we will be unable to track you as a winner and will have to forfeit your prize to the next runner-up! 
"Last year, we delivered public legal information to over 1000 people, assisted nearly 200 clients, and enabled workers to recover almost $80,000 in lost wages, severance and termination, and in other income support." Executive Director, Scott Florence.
 Not only will your donations help us motivate additional funds, but it will also enable us to continue to support all members of our community, making a difference in fighting poverty in our region, and in enabling justice for all. 
We cannot stop now, help us continue to fight for Sudbury Workers and support the Sudbury Workers Education and Advocacy Centre today.
If you are interested in donating as a business or organization, or to learn more about how to win-big this holiday season please reach out to:  Donations@sudburyworkerscentre.ca 
To get involved you can donate at: www.canadahelps.org/en/charities/795837699RR0001-workers-education-alliance-of-northern-ontario/campaign/christmas-drive/
Follow our Facebook to keep track of winners and awesome prizes! @SudburyWorkersCentre
Thank you, we hope to see your support
Tax Event

April 21, 2022: Taxes for Newcomers & International Students 

Tax Event

April 6, 2021: Understanding Your Taxes

Teach-in & Cultural Exchange

Oct 23, 2020: In solidarity with provincial events, meal share.

Data + Queeries Presentation

Jul 15, 2020: Work, inclusion & 2SLGBTQ+ in Sudbury & Windsor

Living Wage Launch

Nov 4, 2019: Sudbury needs a living-wage!

Future of Work

Jul 25, 2019: Workshop – Will the future be fair?

Advocacy 705

Jul 15, 2017: Skill & Strategies for Sudbury

Stitch'N B*tch

Jun 12, 2017: Fight for $15 and Fairness
PAST WORKSHOPS & WEBINARS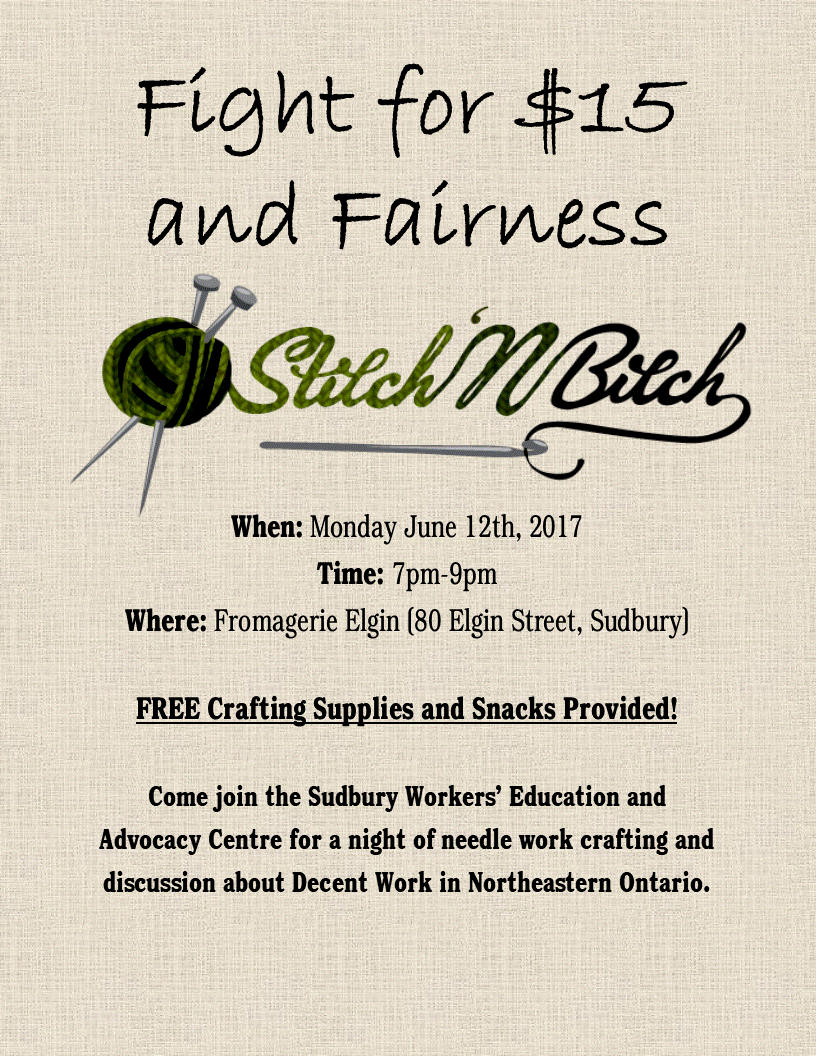 Prescription for a #SafeSeptember:
PAID SICK DAYS!
Rally and Action
Saturday, August 29th 2 PM