Injured Workers Vigil & Rally (Townhall)
8:00 PM

-

1:00 PM
May 31st - Injured Workers' Vigil – An evening of culture & solidarity 8:30pm
June 1st – Injured Workers' Day - Online rally & town hall 10:00am – Online Rally 11:00am – Town hall
Injured Workers' day commemorates June 1st 1983 when over three thousand injured workers descended on Queen's Park and forced a government committee looking at major changes Ontario's workers' compensation system to conduct a public hearing on the steps of the Legislature.
This year, join Workers' Comp Is A Right and allies from the Ontario Federation of Labour, Steelworkers, CUPE, for a morning of rallying cries, calls to action, songs/skits, and messages for the government that will be elected on June 2nd.
Then stick around at 11am, where anyone in attendance will be invited to answer the question: What do you want the government elected tomorrow to do for injured workers?
Email workerscompisaright@gmail.com for more.
Tax Event

April 21, 2022: Taxes for Newcomers & International Students 

Tax Event

April 6, 2021: Understanding Your Taxes

Teach-in & Cultural Exchange

Oct 23, 2020: In solidarity with provincial events, meal share.

Data + Queeries Presentation

Jul 15, 2020: Work, inclusion & 2SLGBTQ+ in Sudbury & Windsor

Living Wage Launch

Nov 4, 2019: Sudbury needs a living-wage!

Future of Work

Jul 25, 2019: Workshop – Will the future be fair?

Advocacy 705

Jul 15, 2017: Skill & Strategies for Sudbury

Stitch'N B*tch

Jun 12, 2017: Fight for $15 and Fairness
PAST WORKSHOPS & WEBINARS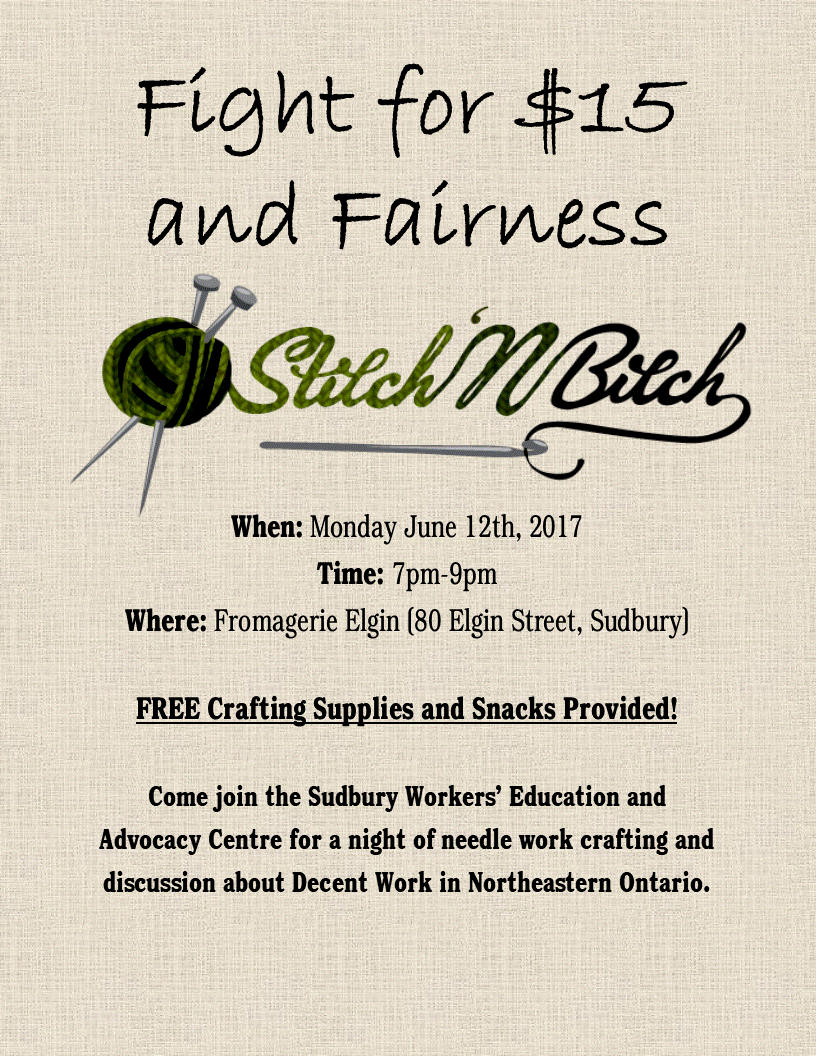 Prescription for a #SafeSeptember:
PAID SICK DAYS!
Rally and Action
Saturday, August 29th 2 PM